message from author
Hi everyone! Welcome to my website.
On this site, you can read about my Books (click on "see more" under each book cover), you can find out more about me  (click here for an interview answering some of the questions I get when I visit schools), and you can connect to my blog. Check the drop-down menus below the website banner. Under "For kids," there is a printable bookmark you can download and details about how you can win a free book.
I always enjoy visiting schools and talking to kids who are interested in reading books or writing stories. If you want to share some thoughts on my books or ask me a question, send me an email, and I'll answer it as soon as I can (but I'm usually busy writing and researching my next story, so please be patient, as it might take a few days for me to answer).
Happy reading!
Jacquie
Email: contact [at] jacquelinepearce.ca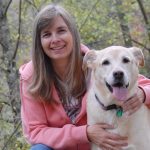 (me with my dog, Dylan, 2010)