Truth about Rats (and Dogs)

larger image
The Truth about Rats (and Dogs) (Orca 2006) — Conner loves animals and BMX bike stunts, but his parents don't seem to notice. They wont let him get a dog, and they expect him to be good at math and piano like his older sister. Despite his parents' no-pets rule, Conner joins his school animal club in helping the local animal shelter and smuggles home a pet rat. As Conner gets to know Oscar the rat, he discovers there's more to rats than he expected. For ages 8-12.

Order it from Orca Books or Amazon.

[note: e-books are available from Kobo, Amazon Kindle, iTunes, etc, and print copies can also be ordered directly from the author at contact@jacquelinepearce.ca]
Reviews
The story is above average, the characters are well developed and the plot moves along at a good pace.
– Canadian Materials
Jacqueline Pearce's own work with the SPCA lends reality to the shelter scenes. Animal welfare subjects integrate naturally into the story, which is chiefly about Conner's struggles with his demanding parents.
– Victoria Times Colonist
By reading this I came to like rats.
– Kyoko Nishihara, English student
Awards and Recognitions
This book has been nominated for a 2008 Hackmatack Award.
Click here for a blog post about rats and the writing of this book and here for a post about George the rat and how he took over Jacqueline's book launch.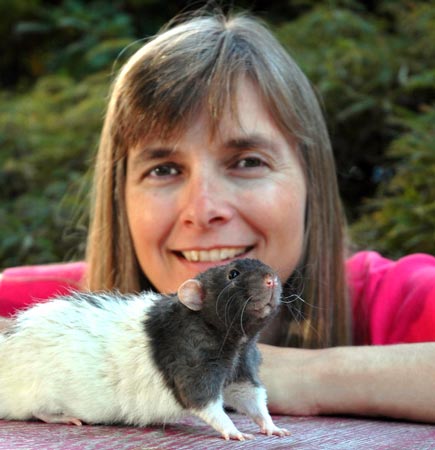 Jacqueline, with Oscar the rat