Manga Touch

larger image
Manga Touch (Orca 2007) — Dana loves Japanese manga and anime and can hardly wait to get to Japan and away from the others on the exchange trip. She's sure she'll be less of an outsider in Japan, but discovers it's just as difficult to fit in with a foreign culture as it is at school. For ages 10-14.

Order it from Orca Books or Amazon.com or Amazon.ca (also available as an e-book)

L'effet Manga, a French version, is also available from Orca Books, Amazon.com or Amazon.ca.
Reviews
Resource Links
This is another excellent title in a superb series for older students with low reading skills.
Nichola Ogiwara, Nikkei Heritage Centre
This is a great introduction to how Japan is experienced today. The characters have their strengths and weaknesses, which young readers can identify with.
VOYA
Readers will easily identify with fish-out-of-water Dana, and travel-minded teens will appreciate the tourist's-eye view of Japan.
Kyoko Nishihara, Japan
Thank you very much for giving us a wonderful story about Japan and Suzuka City. . . . I'm intoxicated with it.
Awards and Recognitions
2008: Canadian Children's Book Centre (CCBC) Best Books starred selection
2007: Resource Links "The Year's Best"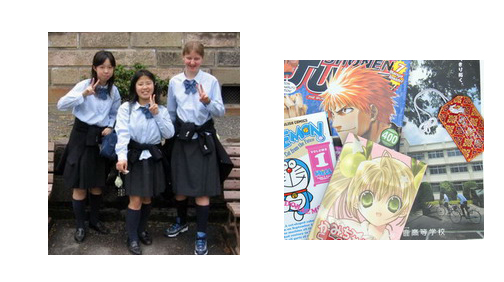 Click here for a blog entry on the writing of the book.
To the right is a photo of Canadian exchange student, Sheya, with students of the real Suzuka Highschool in Japan (wearing school uniforms). To research this novel, the author travelled to Japan, interviewed Sheya and visited Suzuka highschool and other places in the novel. The photo at right includes manga covers, a Suzuka Highschool brochure and charm from a Buddhist temple in Suzuka.